Spain. 400th anniversary of the Plaza Mayor, Madrid
About stamps and plots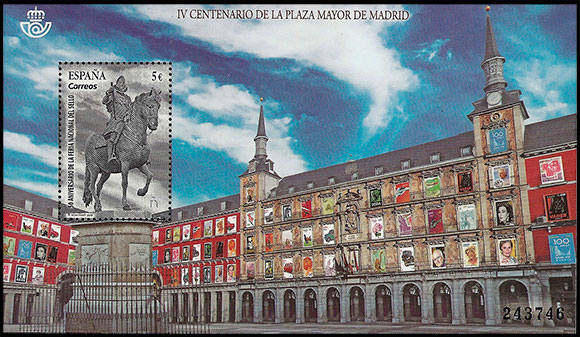 On April 19, 2018, the Spanish Post issued the minisheet dedicated to the 400th anniversary of the Plaza Mayor in Madrid.
On the occasion of its fourth centenary of
the Plaza Mayor in Madrid
Correos issues a block sheet that collects an image of the façade of the Plaza, also the one that houses the Casa de la Panadería, and with reproductions of stamps in each of its windows.
The commemorative stamp, is a chalcography that shows the image of the statue of Philip III that is in the center of the Plaza that dates from the early seventeenth century but has been guarding the Plaza Mayor in Madrid since 1848 when Queen Elizabeth II ordered your transfer from the Casa de Campo.


The stamp appears just above the pedestal reproduced also on the block sheet.