Moldova. Ethnicity of Moldova. Gypsies
About stamps and plots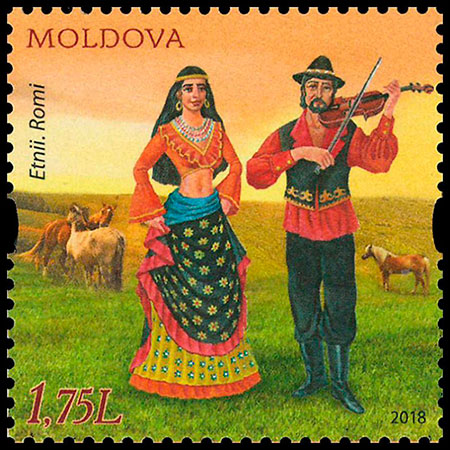 On April 20, 2018, Poşta Moldovei released a Gypsies stamp, Ethnos of Moldova series. The stamp depicts a Gypsy couple and grazing horses.
Gypsies are a multi-cultural people, combining a number of large and small ethnic groups scattered all over the world, with a common origin and similar cultural traditions. Residing in different countries, speaking many languages ​​and following various confessions, Gypsies are united with the same unique cultural heritage. Gypsies account for about 3% of Moldova population with Roma being the most numerous nationality thereof like it is in the other countries of Eastern Europe.
Gypsies all around the globe annually celebrate their national holiday — «International Roma Day» on April 8th. It may have called for the Moldovian postage stamp celebrating the Moldavian gypsies to be released in April. Oleg Cochocar, designer of a 1.75 lei postage stamp, depicted a gypsy couple in colorful national costumes, with the horses grazing on a green meadow in the background.
This post stamp's presentation and first day cancelation took place in Soroca on April 20, 2018. The city of Soroca, located in the north of Moldova, is a recognized gypsy capital of Moldova. The renaissance hub is the «Gypsy Run» — a long-known ​​Roma neighbourhood. Gypsies have lived a settled life in Soroca for several centuries unlike their fellow tribesmen elsewhere. A stable community of gypsies that resided in Soroca dates back as far back as the XVIII century. Most of them were blacksmiths and gunsmiths. By a local legend Roma were granted this land by a Moldovan ruler Stefan Cel Mare back in XIV century as a gesture of gratitude for making guns for his upcoming battle.