Bulgaria. 900th Anniversary of the Medieval Knights Templar Order
About stamps and plots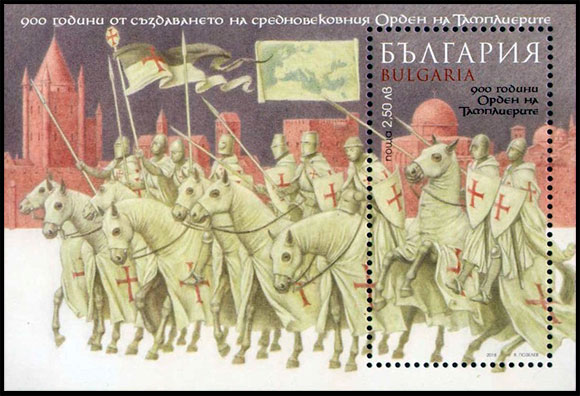 On April 17, 2018, the post of Bulgaria issued a souvenir sheet in honor of the 900th anniversary of the founding of the Knights Templar Order.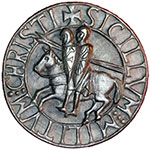 The Order of the Knights Templar was established on the Holy Land after the First Crusade. Around 1118, French nobleman Hugo de Payne gathered eight of knights and established the Order, proclaiming his goal of protecting pilgrims in their pilgrimage to holy places in the Middle East.
Their order they called "Poor Knights of Christ and the Temple of Solomon." (lat. Pauperes commilitones Christi Templique Salomonici) They were so poor that they had only one horse for two people. In memory of this, the Order's seal has represented the image of a horse on which two horsemen sit for a long time.
The famous Bulgarian artist Yasen Guzelev painted nine knights-founders of the Order of the Knights Templar in front of the historical and cultural sights on the postal souvenir sheet. The artist also did not forget about the medieval legend - two knights sit on a horse at the same time. This symbolic image is represented on the stamp.
The souvenir sheet is issued in a circulation of 10,100 copies, including 4,000 sheet produced on special paper without an adhesive layer with an ultraviolet protection strip and an individual number from 0001 to 4000.
The presentation of the postal souvenir sheet took place at the Rila Hotel in Sofia where Deputy Minister of Transport, Information Technologies and Communications Dimitar Genovsky, modern followers of the Knights Templar in Bulgaria, as well as the President of the International Federation of Philately Tay Peng Hian participated in the ceremony.