Kyrgyzstan. 25th anniversary of the National Currency of Kyrgyzstan
About stamps and plots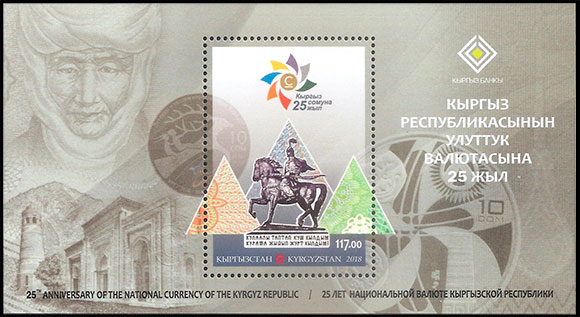 On April 7, 2018, the Post of Kirghizia issued a stamp sheet to commemorate the 25th anniversary of Kyrgyzstan national currency.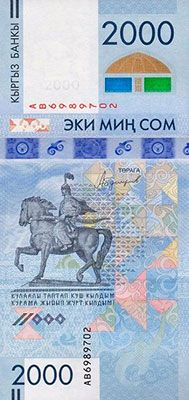 It had been 25 years in 2017 since Kyrgyzstan put Som, it's national currency, in circulation.
The stamp sheet depicts a fragment of the first commemorative 2000 som banknote issued in 2017 celebrating two dates: the 25th anniversary of Kirghizia independence and the 25th anniversary of it's national currency.
A monument to the national hero — Mighty Man Manas, who as per an epos united the Kirghiz into a single nation, occurs in the center of the front side of the note. Images of a few coins and fragments of some banknotes' design are scattered around on periphery.
The image of a monument to Manas was not a random pick for the commemorative banknote and the stamp sheet. The Mighty Man Manas is the most famous national hero and a symbol of national unity.
The monument to Manas the Generous was installed on Ala-Too Square in Bishkek on August 31, 2011. Sculptor Bazarbay Sydykov chose to show the hero on a standing horse, his left hand holding a sword in a sheath, and his right hand raised in a greeting gesture.