Monaco. 250th anniversary of the birth of François-Joseph Bosio
About stamps and plots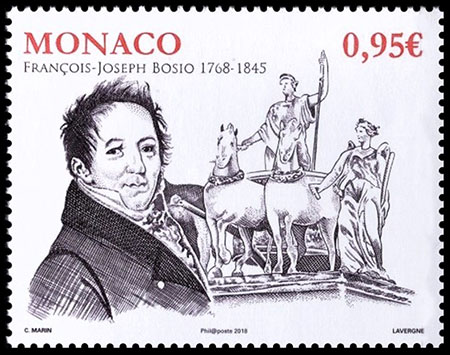 On March 19, 2017 the post of Monaco issued a postage stamp in honor of the 250th anniversary of the birth of Monegasque sculptor François-Joseph Bosio (1768-1845).
The year 2018 will mark the 250th anniversary of the birth of Monegasque sculptor François-Joseph Bosio (1768-1845), who was a portrait painter to Napoleon I and then a professor at the School of Fine Arts. He was appointed as the first sculptor of the King in 1821. His major works are in Paris - twenty bas-reliefs for the column of the Place Vendôme, the equestrian statue of Louis XIV in the Place des Victoires, Henri IV as a child, and Aristotle and Hercules fighting with Achelous, all three of which can be found in the Louvre museum.
For the stamp design, a competition was held for all former students of the Pavillon Bosio – Monaco Art School. The winner, Céline Marin, chose to represent the sculptor and one of his major works, the Quadriga of the Carrousel Triumphal Arch, created in 1828.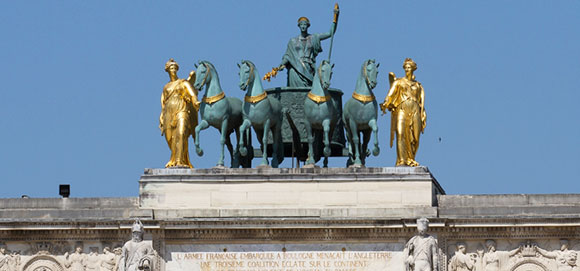 The Arc de Triomphe du Carrousel is a triumphal arch in Paris, located in the Place du Carrousel. It was built between 1806 and 1808 to commemorate Napoleon's military victories of the previous year.
Designed by Charles Percier and Pierre François Léonard Fontaine, the arch was built between 1806 and 1808 by the Emperor Napoleon I, on the model of the Arch of Constantine (312 AD) in Rome, as a gateway of the Tuileries Palace, the Imperial residence. The destruction of the Tuileries Palace during the Paris Commune in 1871, allowed an unobstructed view west towards the Arc de Triomphe.
It was originally surmounted by the Horses of Saint Mark from Saint Mark's Cathedral in Venice, which had been captured in 1798 by Napoleon. In 1815, following the Battle of Waterloo and the Bourbon restoration, France ceded the quadriga to the Austrian Empire which had annexed Venice under the terms of the Congress of Vienna. The Austrians immediately returned the statuary to Venice.
The horses of Saint Mark were replaced in 1828 by a quadriga sculpted by Baron François Joseph Bosio, depicting Peace riding in a triumphal chariot led by gilded Victories on both sides. The composition commemorates the Restoration of the Bourbons following Napoleon's downfall.