Iceland. Nordia 2018
About stamps and plots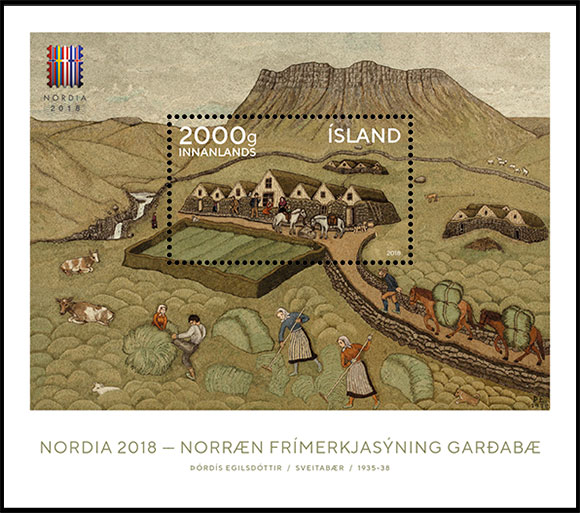 On April 26, 2018,
Iceland Post
issued a
minisheet
in the lead-up to the
Nordic Philatelic Exhibition NORDIA 2018.
The Nordic Philatelic Exhibition NORDIA 2018 will be held in Iceland on June 8-10, 2018, in Ásgarður Sports Hall in Garðabær. The NORDIA exhibitions can be traced back to 1966 when Finland held an exhibition named Nordia. In 1975 it was decided to hold regular Nordic philatelic exhibitions. Iceland has participated in these exhibitions since 1978 and Nordia 2018 is the seventh such exhibition held in Iceland. It offers some 700 frames on all competition levels and around 20 sales booths.
Iceland Post has issued a minisheet for this occasion. The motif is an embroidery by Þórdís Egilsdóttir (1878-1961) showing an Icelandic farm.
The embroidered picture depicts the traditional Icelandic farm - sveitabær. Small houses and farm buildings covered with turf are surrounded by low stone fences. Farmhouses are scattered in the middle of fields and vast pastures for sheep. The embroidery depicts farmers and their faithful assistants - small hardworking Icelandic ponies, which for many centuries were used
for horseback riding and as packhorses
.
Þórdís Egilsdóttir was one of Iceland's foremost needlework artists. Her woollen embroidery is mostly coloured with Icelandic herbal colours, based on a design by Ríkharður Jónsson made on her instructions. In 1930 Þórdís embroidered a picture of a farmer's living room. Both pictures were exhibited at the World Exhibition in New York in 1939. They were bought by the Icelandic state in 1944. The farmhouse tapestry graces the premises of the President of Iceland at Bessastaðir.