Israel. Ancient Roman Arenas
About stamps and plots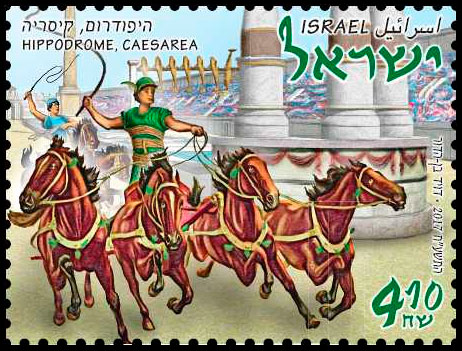 December 19, 2017, the Israeli Post issued a series of postage stamps "Ancient Roman arenas." One of the stamps is dedicated to hippodromes and the famous races of chariots.
Entertainment and sporting events constituted a significant part of the cultural activity in ancient Rome.
The city rulers, who coined the phrase "bread and circuses", distributed free food and built arenas as a way to placate the masses. Roman soldiers and officials brought their customs to every corner of the vast empire and contributed to the dissemination of this culture among local populations. Thus, these arenas became an important part of the urban landscape in Eretz Israel during the Roman Period.
The Hippodrome was also built outside the city and mainly served as a venue for chariot races. The seats were placed along the long sides of the arena. One end had a curved wall and the other had a straight wall where the chariot gates were located. A grand divider decorated with statues and columns was erected in the center of the arena, between the two tracks. The chariots rode around this divider repeatedly during the race. The winning chariot driver got to hold a palm spoon and Sages equated the waving if the lulav during the Sukkoth festival to victory before God.
The illustrations on the stamps were inspired by mosaics from the Roman Period and by 18th and 19th century works of art describing that period (books, paintings, posters).
Tab illustrations: based on photos by Moshe Rimer (Caesarea); Carole Raddato (Beit Guvrin); Israeltourism (Beit She'an).
Source: www.israelpost.co.il