Czech Republic. Czech postal history
About stamps and plots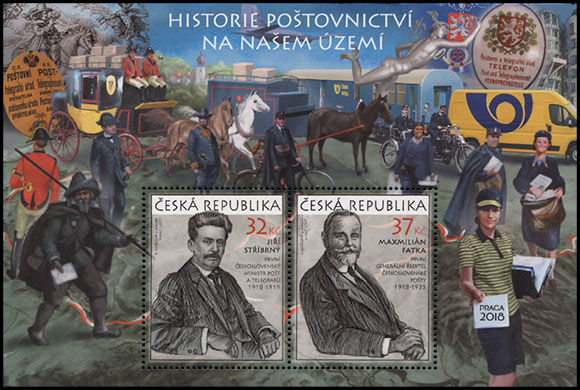 On December 13, 2017, the Czech Post issued a miniature sheet dedicated to the Czech postal history.

On the stamps there are portraits of the first postal service leaders of the Czech Republic in the period 1918 to 1935.

On the 32 CZK stamp, a portrait of Jiří Strísbranna (1880-1955) - a Czechoslovak politician and journalist is presented. In 1918-1919 he was the first minister of postal and telegraph services.

On the face value of 37 CZK - Maxmilan Fatka (1868-1962) - Austro-Hungarian, Czech and Czechoslovak politician and statesman. He was the first general director of the Czechoslovak Post in 1918-1935.

On the field of the miniature sheet, Czech artists Eva Khashkova and Jan Maget depicted various means of mail delivery, from the Middle Ages to today's days.
In the upper left corner of the fragment of an ancient engraving with a postal messenger, closer to the center - the stagecoach of the XIX century and a horse cart.
Source: www.ceskaposta.cz