Israel. WWI in Eretz Israel Centenary
About stamps and plots
On February 6, 2018, the Israeli Post issued a postage stamp in memory of the events of the First World War in Eretz Israel.
When WWI broke out in August 1914, the Ottoman Empire formed an alliance with the Central Powers (Germany and Austria) against the Allies (Britain, France and Russia). The Great War, as it was known at the time, went on for more than four years and fundamentally changed world history in general and the situation in Eretz Israel in particular.
The large British offensive to conquer the northern part of Eretz Israel began on September 19, 1918.
British and Indian forces broke through the Turkish line near the Poleg River and proceeded rapidly northward along the coastal plain. By evening, the attackers reached the Tul Karem area, the next day they captured Afula and Nazareth and on September 21st British aircraft attacked the retreating Turks in northern Samaria, inflicting many casualties.
The British route of attack did not include Haifa, and conquering the city was not part of the plan at that stage. However, on September 22nd an erroneous report was received advising that the Turks had abandoned the city. When they attempted to enter the city, the British were met with fierce resistance and barely succeeded in extracting their troops.
Following this failure, the Indian 5th Cavalry Regiment was ordered to conquer Haifa. On the morning of the 23rd the Ramchi Jodphur battalion began progressing toward Haifa, but was not able to achieve its goal. At 2:00 pm another battalion, commanded by Major Takhur Dalfat Singh was assigned the task. The battalion's cavalrymen bravely charged the Turks' machine gun positions, subdued them and
successfully conquered Haifa. Major Dalfat Singh, who was killed during the attack, was posthumously called "The Hero of Haifa". This battle is considered by the Indian military to be one of the cornerstones of its military history, and it is marked annually with ceremonies throughout India.
In the following days, the British continued their progress northward, which was concluded on September 30th, with the capture of Damascus. A short time thereafter the Ottoman Empire conceded, thus ending WWI on the Eastern Front.
The stamp features an Indian cavalryman (Library of Congress, from photos of the American Colony in Jerusalem) against the background of the Indian Cavalry battalion in the streets of lower Haifa (Imperial War Museum).
The tab features the insignia of the Indian army's Ramchi Jodphur battalion.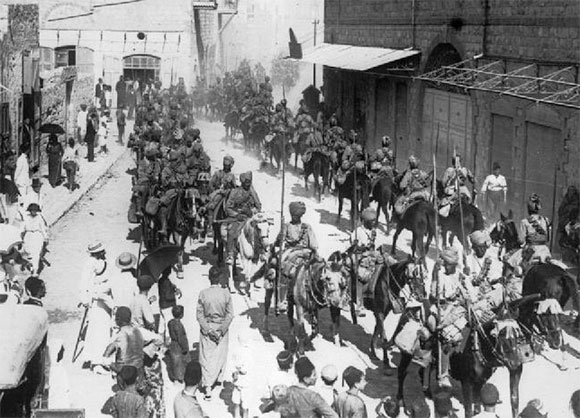 Source: www.israelpost.co.il