Thailand.250th Anniversary of the Restoration of Thailand's Independence by King Taksin the Great
About stamps and plots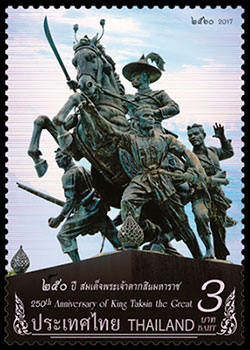 On November 6, 2017, the Thai Post issued a stamp in honor of the restoration of Thailand's independence by King Thaksin the Great. The stamp depicts a horse monument to the King-Liberator.
Taksin the Great or the King of Thonburi (April 17, 1734 – April 7, 1782) was the only King of the Thonburi Kingdom and was of Thai Chinese heritage. He was a leader in the liberation of Siam from Burmese occupation after the Second Fall of Ayutthaya in 1767, and the subsequent unification of Siam after it fell under various warlords. He established the city of Thonburi as the new capital, as the city of Ayutthaya had been almost completely destroyed by the invaders.
His reign was characterized by numerous wars; he fought to repel new Burmese invasions and to subjugate the northern Thai kingdom of Lanna, the Laotian principalities, and a threatening Cambodia. He was executed and succeeded by his long-time friend Maha Ksatriyaseuk who then assumed the throne, founding the Rattanakosin Kingdom and the Chakri dynasty, which rules Thailand to this day.
King Taksin the Great Monument located Chanthaburi within Thung Na Choei Public Park. Park covers an area of approximately 300 rai with a beautiful and shady landscape and a fish breeding pond.

The monument of King Taksin the Great in memorial of the historic liberation of the Kingdom of Ayutthaya is situated on an islet in the middle of the pond. The equestrian statue is guarded by statues of his four trusted soldiers. The expression on the king's face clearly shows the resoluteness and determination to restore the national independence.