Serbia: Ljubičevo Equestrian Games
About stamps and plots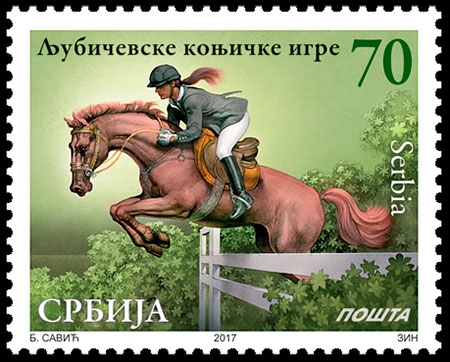 On the September 1, 2017 the post of Serbia issued a postage stamp dedicated to the famous Ljubichevsky horse games.
Lyubychev horse games are one of the most famous Serb equestrian competitions, they are held annually, since 1964. In 2016, the games received the status of national games and are held under the patronage of the President of Serbia. The total prize fund is the largest in the Balkans and is 8.1 million dinars.

The game's name came from the oldest horse farm, Ljubichevo, near Pozharevets. It was founded in 1853 by Prince Miloš Obrenović and was named after him in honor of his wife Lyubitsa.

Every year in the first weekend of September lovers of equestrian sport from all over Serbia and even other countries come to Lyubychev horse games. The program of the games includes an exhibition of horses, child vaulting, flat racing, steeplechase and harness racing. The special coloring is given to the games by traditional equestrian pentathlon, when riders compete in five disciplines: throwing maces, archery, courier riding, javelin throwing and saber cutting.

The famous Serbian artist Boban Savić has chosen for the postage stamp, probably, the most advantageous story - overcoming the obstacle by the rider. Pleasant color scale and a delicate drawing of details will not leave indifferent any fan of equestrian sport.

The stamp with a denomination of 70 dinars was issued in a circulation of 45,000 copies. Also, by mail, an envelope of the first day was issued and a special postmark was developed.