Colombia. Department of Meta
About stamps and plots
On January 26, 2018, the Columbia Post issued a miniature sheet of 12 stamps dedicated to the Department of Meta.
The miniature sheet stamps visually demonstrate the history, natural and cultural wealth of Meta. The emblem of the department, the view of the modern city, the beauty of nature, moments of everyday life and colorful national holidays - stamps and coupons allow to make a short excursion to the department of Meta in central Colombia.
The two stamps from the miniature sheet have images of the riders and you can see it.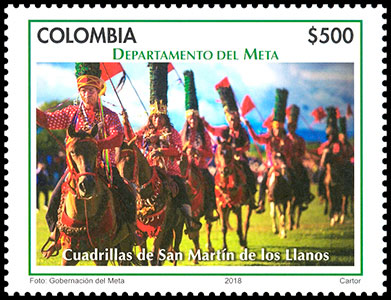 One of the stamps is dedicated to the colorful holiday "Cuadrillas de San Martín". This festival is held every year in the city of San Martín de los Llanos, which is located to 65 kilometers southerly of the capital of the Villaviccioso region. The festival has more than 200-year history: the first festival was held here in 1785.
Quadrias de San Martin is an unusual holiday, it reflects the complicated history of the country and the appearance of its people. Four ethnic groups left their large footprint on the sands of time: Spanish conquistadors, Moors, indigenous Indian tribes and tribes of Africans - as a reflection of the history of the festival involved 4 squad of riders for 12 people in each. Each participant is dressed in an appropriate outfit: conquistadors in armors and helmets, Arabs in wide trousers and turbans, African horsemen wear intimidating masks and clothing from skins, Indians of Guahibos can be recognized by red faces and high headdresses made of feathers. It is exactly a group of Indians depicted on the postage stamp.
The festival begins with a festive procession through the streets of the city, then in the program of the holiday participants are waiting for 10 tests in which they must demonstrate their riding skills, strength and courage. One of a part of the competition - war games, recreating the battles between the Spaniards, Arabs and African tribes, the others are peaceful and demonstrate the fusion of cultures that has arisen as a result of the interaction of different nations.
---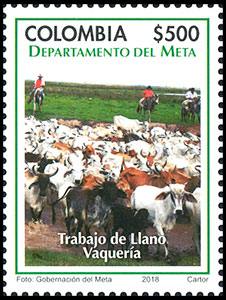 The second stamp which has horses image is devoted to grassland farming, it is the basis of Meta's economy. Vast flocks of cows graze in steppe plains. From time to time, owners of large cattle farms arrange the Vaqueria, when shepherds drive cattle from pasture to return lost cows to owners and to mark the young. Shepherds during the Vaqueria in Llanos are depicted on the second 'horse' stamp in a small sheet.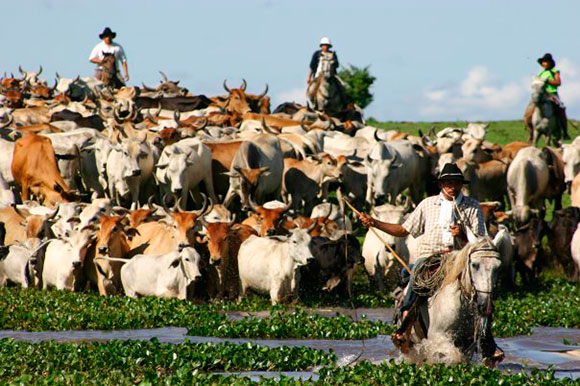 The presentation of the miniature sheet took place on January 26 as part of the ExpoMalocas exhibition in Villaviccioso (capital of the region).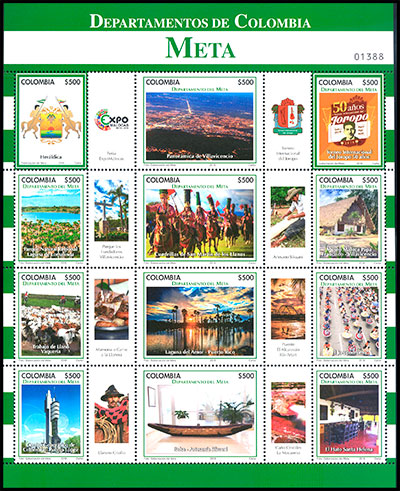 Перейти в каталог