Guernsey. 70th Wedding Anniversary of The Queen and Prince Philip
About stamps and plots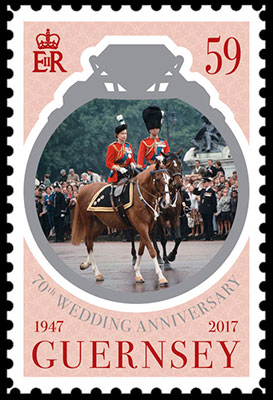 November 8, 2017,
Guernsey Post
issued a series of 6 postage stamps
to celebrate The Queen and His Royal Highness The Duke of Edinburgh's 70th wedding anniversary.
On the 20th November 2017, Her Majesty The Queen and His Royal Highness The Duke of Edinburgh celebrate their platinum wedding anniversary marking a milestone 70 years of marriage. They have supported one another through many royal duties, and have welcomed four children, eight grandchildren and five great-grandchildren into the world.
Development of the design of postage stamps,
selvedge sheets, first day cover, presentation pack and a cancellation
was entrusted with a small but
highly regarded, multi-award winning graphic design studio
Two Degrees North, which was founded in Guernsey in 2004.
The images chosen for
stamps
are based around six important areas in the Queen and His Highness' marriage: Family, the forces, home life, travel, events and royal duties. Each image is set in the middle of a foil silhouette of the queens engagement ring. We chose to do this because a 70th wedding anniversary is known as the 'platinum anniversary' and Prince Philip proposed to the queen with a platinum engagement ring. The colour of each of the six types of stamps was chosen to reflect the colour of the Queen's clothing in the photographs which also helps to differentiate the six different price values.
Source: www.guernseystamps.com