Latvia. Christmas
About stamps and plots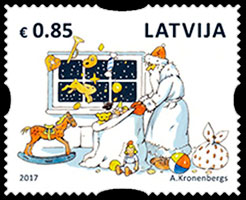 24th November Latvijas Pasts has issued the last new philatelic releases of 2017: the traditional Christmas stamps. This year the three new stamps feature the motifs from the works by Alberts Kronenbergs, a well-known Latvian artist and illustrator of children's books.
In 2017, marks the 130th anniversary of the birth of the famous Latvian artist Albert Cronenberg.
He illustrated about 130 books, including those written by him. The first children's picture book by the well-known artist,
Mazais ganiņš
(The Little Shepherd), with the author's text came out in 1931. Since then, the characters of A.Kronenbergs' drawings and poems – Jurītis of Tuntuļi, the Five Cats and the Little Shepherd – have been together with several generations of Latvians.
Latvijas Pasts commemorates the artist by issuing Christmas stamps, featuring the works by A.Kronenbergs from various books illustrated by the author. The first day postmark and the special cover are also decorated with A.Kronenbergs' drawing.
Source: www.pasts.lv