Ireland. Bicentenary of the opening of the GPO
About stamps and plots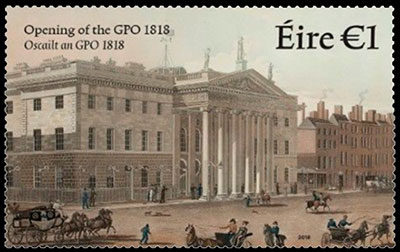 This year sees the bicentenary of the opening of probably the best-known building in Ireland: The General Post Office (GPO) in Dublin's O'Connell Street. The GPO opened for business on January 6, 1818 when O'Connell Street was then called Sackville Street.

The building was designed by architect Francis Johnston and was the last of the great Georgian public buildings to be built in Dublin.

Almost 100 years later, in 1916, the Easter Rising took place, with Dublin at the epicentre of the fighting. The leaders of the rebellion set up headquarters in the GPO and read the Proclamation of the Irish Republic. As a result, the GPO became the focus of the ire of the British government and it was heavily shelled before burning almost to the ground. All that remained was the façade of the building and it lay in ruins until the Irish Free State government rebuilt it years later.

In 1911 a statue depicting the death of the ancient Irish hero Cú Chulainn was sculpted by Oliver Sheppard and was sited at the command post in the centre of the GPO main hall. Later it was moved to the front of the building, where it still stands. The building will always hold a very special place in Irish history and its story is well known among people of all ages in Ireland.

Today the GPO is the headquarters of An Post, the Irish Post Office and is Dublin's principal Post Office.

The stamp was commissioned to commemorate the bicentenary of the opening of the GPO. It features an image of the GPO which was engraved by Robert Havell and Son and published in 1820 by G.H. Jones.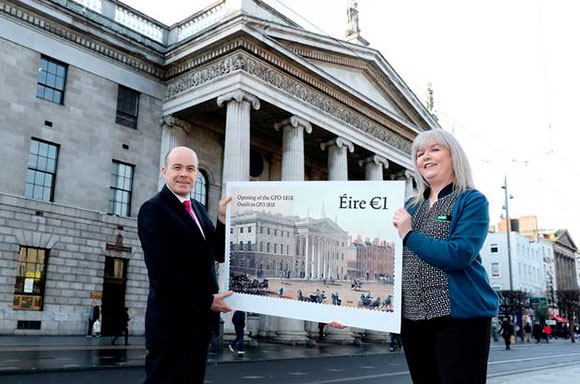 Minister Denis Naughten and GPO clerk Debbie Gilligan unveil the new stamp. Photo: Maxwells Dublin