Argentina. Bicentenary of the crossing of the Andes
About stamps and plots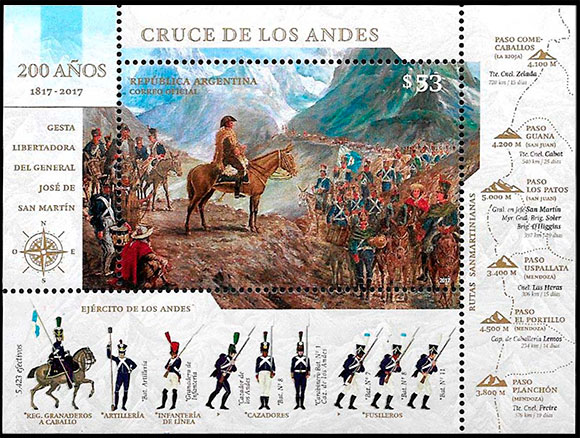 On December 26, 2017, the post of Argentina issued a postal souvenir sheet in honor of the 200th anniversary of the crossing of the Andes under the command of Jose San Martin.
The Crossing of the Andes (Spanish: Cruce de los Andes) was one of the most important feats in the Argentine and Chilean wars of independence, in which a combined army of Argentine soldiers and Chilean exiles invaded Chile leading to Chile's liberation from Spanish rule. The crossing of the Andes was a major step in the strategy devised by José de San Martín to defeat the royalist forces at their stronghold of Lima, Viceroyalty of Perú, and secure the Spanish American independence movements.
On the morning of January 19, 1817, San Martin and his army set out from their base camp El Plumerillo and began their journey across the Andes Mountain range. San Martin crossed with 4,000 men, only to end up losing 1/3 of them. It was a devastating blow to the troop. The number of auxiliaries reached 1,200.
On February 13, 1817, San Martín, O'Higgins, and their army successfully entered Santiago, Chile, after crossing 500 kilometers of mountain range, and the journey came to an end.