Argentina. Mancha and Gato
About stamps and plots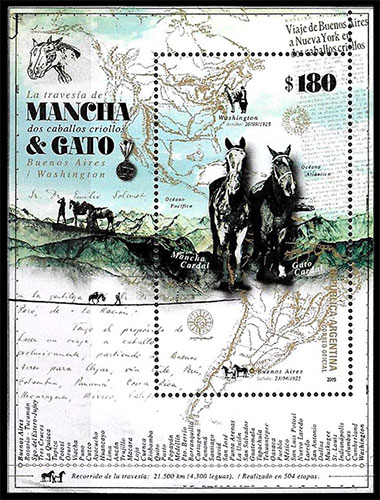 On October 7, 2019, the Argentine post issued a

souvenir sheet

in honor of two Creole horses, Mancha and Gato.

These horses became world famous thanks to the extraordinary journey from Buenos Aires (Argentina) to New York (USA), which began in 1925 and took more than 3 years.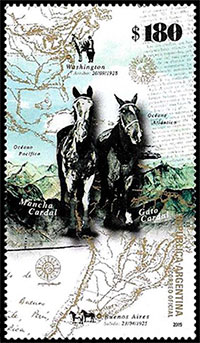 The small

souvenir sheet

issued by the Argentine post in honor of this event is very full of information and details. The stamp depicts the heroes themselves - the Creole horses of Mancha and Gato, as well as a map showing the dates and starting and ending points of the trip - Buenos Aires and Washington (!). On the margins of the

sheet

are photographs and drawings depicting various moments of the campaign, a fragment of Tschiffely's letter to Emilio Solano asking for horses, a medal received by Aime Tschiffely from the Ministry of Agriculture. On the lower edge of the

souvenir sheet

are the names of the main stages of the route and information about its length.

The initiator and sole participant in this intercontinental equestrian trip was Aimé Félix Tschiffely, a professor, writer and travelers from Buenos Aires. Aime Tschiffely, born in Swiss Bern in 1895, was educated in England, then moved to Argentina, where he worked as a teacher of physical education and English at St. George de Quilmes College in Buenos Aires. In the mid-1920s, Aime Tschiffely finally decided to fulfill his dream and realize an extremely ambitious project - to cross two continents, ride all of America on Creole horses and prove to the whole world that these are the most persistent horses on earth.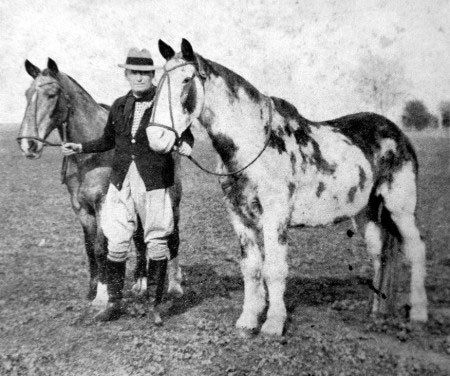 Tschiffely was convinced of the extraordinary strength and endurance of the local Creole horses. He contacted Dr. Emilio Solanet, a famous Argentinean creollo breeder, who, at his El Kardal ranch in Ayacucho, restored and literally saved the breed from extinction. At that time, there was fierce debate about the qualities and values ​​of local horses, methods of breeding and keeping them, and Dr. Solanet responded to the unusual request of Professor Tschiffely and handed him two horses, Mancha and Gato, to participate in the equestrian campaign. Mancha is a Creole gelding of 15 years of pinto color, as evidenced by its nickname ("Mancha" in Spanish means "spot") and Gato is a mousey gelding of 16 years old ("Gato" - short for "gateado" - mouse) more than three years have become faithful companions of Aime Tschiffely on this difficult journey.

It took several weeks to prepare and April 24, 1925 was the day of the start of this extraordinary journey. Aime Tschiffely's path ran through two continents and amounted to a total of about 21,500 km, the trip consisted of 504 stages, and the daily crossing was an average of 46.2 km. Thus, Aime Tschiffely set a world record for horseback riding in the distance covered, as well as in the conquered altitude - in Bolivia on Paso el Condor their path ran at an altitude of 5900 meters above sea level.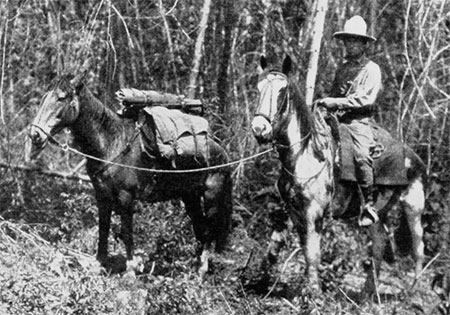 The journey took place in very difficult conditions, while at different sections of the route there were no roads, and even when they were, they were not distinguished by good condition. The sweltering heat and hot sands of the plains were replaced by wet jungles and swamps, and then stones and cold on mountain passes. During the journey, Tschiffely crossed the Andes several times, and it was at these crossings that he encountered the greatest difficulties: the mountains rose above 5 thousand meters, and the temperature dropped to -18° C. At the same time, Mancha and Gato perfectly coped with the task set for them, without incident, overcoming all the hardships of a long and difficult journey, demonstrating the unusual endurance and performance of Creole horses.
Tschiffely wrote about his horses in travel notes: "Their sturdy legs, short thick necks and Roman noses are as far from the articles of first-class English racehorses as the North Pole from the South. Perhaps they are not so beautiful, but I am ready to boldly declare that no other breed in the world has the ability of Criollo to continuous hard work. " The adventurous adventurer's adventurer and his horses were followed by newspapers from several countries, publishing reports and travel notes.

Gato limped in Mexico after he was kicked by a mule, but the Tschiffely and Mancha continued on their way. September 20, 1928 - 3 years, 4 months and 6 days after leaving Buenos Aires, they arrived in New York. Tschiffely crossed the island of Manhattan and arrived at the city hall, where he was waiting for the mayor of the city Mr. James Walker and the ambassador of Argentina. Then they traveled along Fifth Avenue, where traffic was deliberately stopped, and arrived at the police station near Central Park, where horses were then kept.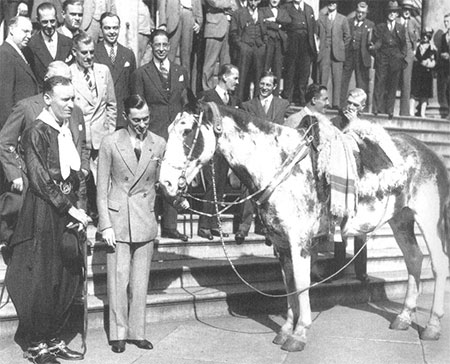 One of the newspapers commented on this outstanding achievement: on the hooves of his Creole horse, Aime Tschiffely brought the dust of twenty countries that he crossed on his journey, longer and harder than any conqueror or explorer of the past.

Tschiffely himself said: "I was fascinated for a long time, I looked at my Creole horse, and then at these huge concrete and steel skyscrapers: one is a product of the plains of Patagonia, arid and covered in wind; others are the result of a person's work, his mind, initiative and ability. Before I understand this, I spoke again with my horse: Yes, old, this is New York, but I know that the Argentine pampas call you. Be patient, I will take you back because you deserve it. " Tschiffely kept his word, Gato and Mancha returned to Argentina in December 1928. A few years after completing the journey, Aime Tschiffely visited the El Kardal Ranch. He visited his old friends whom he had not seen for a long time, and with whom he shared so many difficulties and joys along the way. Tschiffely stood at the entrance to the corral and whistled, and immediately Gato and Mancha, who also did not forget their companion, approached him. Both horses then lived a long life and died in the 1940s: Gato at the age of 36, and Mancha at the age of 40. Aime Tschiffely continued to travel around Patagonia, Spain and England, but always returned to Argentina, where he died in 1954.

In this whole story, I am still confused by some confusion with the final destination of Aime Tschiffely's travels - in some sources Washington is indicated, in others New York. At the same time, the same arrival date is indicated both there and there - September 20, 1928, which, you see, is unlikely, since the distance between cities is more than 300 kilometers. Probably Tschiffely visited both of these cities and, visiting the capital, went on to New York, about the visit of which much more information remains.

This journey aroused great interest in Creole horses around the world and gave a tangible impetus to its development. And from 1999 - September 20 - the day of the completion of an outstanding tour in Argentina, was officially celebrated as "National Horse Day."

In addition to the postal block and the first-day envelope, Argentina's post issued a multi-page booklet with information and photographs about Mancha and Gato's journey.
Перейти в каталог